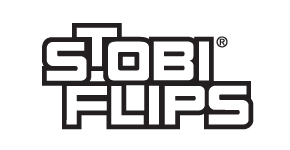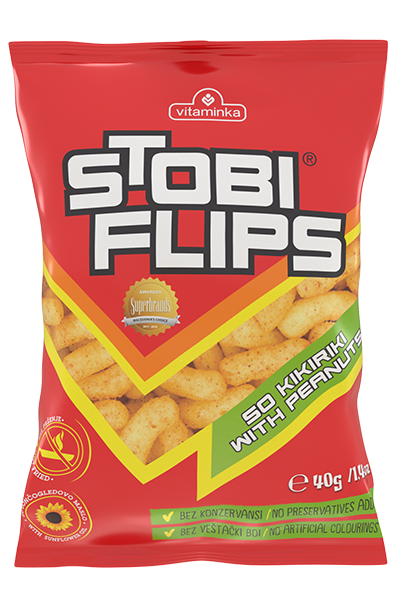 Stobi Flips
Stobi Flips is a top quality product, created through a perfect blend of corn grits, ground peanut topping, sunflower oil, salt and lots of love.
The striking flavor makes Stobi Flips ideal snack for every occasion, at any time of the day. From the irresistible charms of the taste that brings back the childhood, through the imminent presence in every moment of life, up to this moment when thousands flips nibble everywhere – Stobi Flips is a product that is loved by all generations!
The product does not contain any ingredients of animal origin.
– What is STOBI FLIPS?
– What is it made from?
– Why is it useful for consumption?
– Who should consume it?
STOBI FLIPS is a product made by Vitaminka from Prilep, the Republic of Macedonia. It has been produced there for more than 40 years by using the most modern machines, on the most state of the art production line completely made of stainless steel. It is produced in a continuous production process, without any possibility of external contamination.
It contains the following raw materials: grits and corn flour purchased from three suppliers. Its composition further includes pure sunflower oil, roasted ground peanuts, a mixture of various spices and salt, according to a unique recipe and adjusted technological process to it.
Hydrogenated fat which is harmful to health is not added i.e. is not present in its composition, there is no palm fat also in the composition which has far lesser quality than the sunflower oil.
The technological process for the production of STOBI FLIPS involves heating the sunflower oil at a low temperature, much lower than 90°С, and in no way and never at 170-180°С.
A special type of peanuts which are roasted and ground on our machines in the factory is used in the technological process.
The STOBI FLIPS composition has never included trans fatty acid in its composition, nor gluten. Those two components which are harmful to consumers' health have never been and will never be present in its composition.
We are looking for an institution in Europe which can confirm the absence of gluten from our product by issuing an official, internationally recognized analysis. During 40 years of production of STOBI FLIPS not a single consumer worldwide has so far complained about gluten consequences on their health.
It is intended for consumption for all ages of the population, older than a year if it is consumed as original product and if it is consumed mashed then children older than 6-9 months can also consume it.
Ingredients
Corn grits, roasted peanut, sunflower oil, salt and other supplements.
The product is gluten free.
Nutritional value
With plenty of vitamin B-complex, Stobi flips is suitable for all occasions and at any time of the day.
НУТРИТИВНА ВРЕДНОСТ НА 100g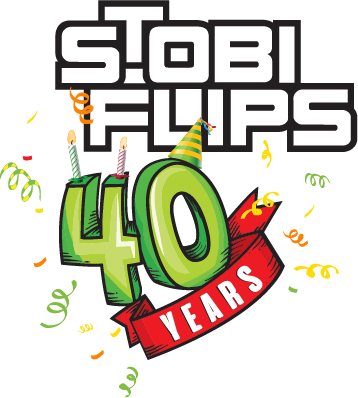 Please see the selection of packaging materials and packaging on the slider
Other products from Snacks