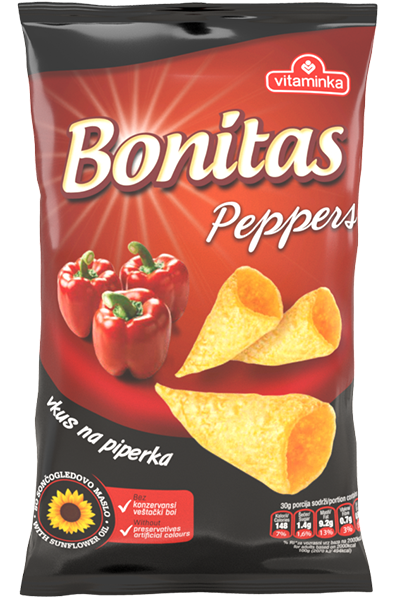 Bonitas pepper flavored
With its spicy flavor, pepper flavored Bonitas bring freshness in the world of chips. The interesting shapes and pepper taste make them an essential part of any party, but also a great snack.
Ingredients
Corn starch, corn flour, sunflower oil, salt, pepper flavor (salt, wheat flour, flavour enhancers: monosodium glutamate, disodium inosinate, disodium guanylate, spices: pepper, onion, garlic, chili, black pepper, thyme, oregano), dextrose, hydrogenated vegetable oil, flavorings, spice compounds, citric acid, silicon dioxide, red pepper extract). The product contains wheat flour (gluten).
Please see the selection of packaging materials and packaging on the slider
Other products from Bonitas